Welcome to the "Watershed Capital of Nebraska"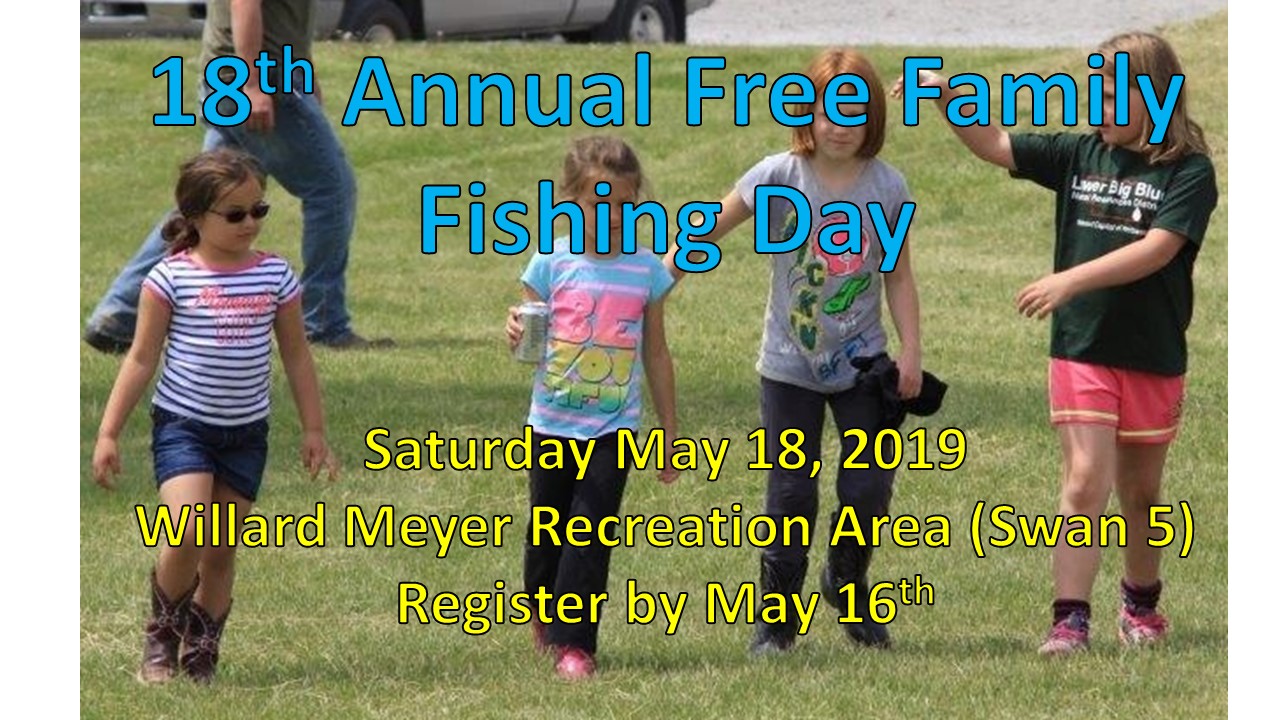 Free Family Fishing Day & Youth Fishing & Casting Derby
The Lower Big Blue Natural Resources District, Beatrice Optimist Club, the Swan 5 Advisory Council and Big Indian Archers are hosting the 18th Annual Free Family Fishing Day and Youth Fishing & Casting Derby on Saturday, May 18, 2019 at Willard L. Meyer Recreation Area near Tobias, Nebraska. Also referred to as Swan Lake, Willard L. Meyer Recreation Area is located three miles east and two miles north of Tobias. Or, from the Highway 74/Highway 15 intersection, the recreation area is five miles west and two miles north. The day also coincides with the Nebraska Game & Parks Commission's statewide free fishing day, so no state park entry permits or fishing permits are required.
Events for this year include the Youth Fishing Derby, Optimist Club Casting Contest, Nebraska National Guard Aircraft Display-Weather Permitting, Hands-On Archery Demonstration by Big Indian Archers, J&J Outdoors hands-on trapping demonstration, Boat Rides with Boat Safety Presentations and Nebraska Game & Parks Fishery Display. The Fishing Derby will be held from 9:30 – 11:00 a.m. with check-in from 8:30 – 9:30 a.m. Limited bait, rods and reels are available by pre-registration only. Medals and prizes will be awarded in four age groups (5 and under, 6-9, 10-12, 13-18) for largest, smallest and most fish caught. Pre-registration is required and the deadline is Thursday, May 16, 2019. A free hot dog lunch will be provided to Fishing Derby participants and family.
Additionally, the Willard L. Meyer Recreation Area has a swimming beach, playground equipment and electrical and non-electrical camping areas. During the fishing derby and boat safety presentations boats will not be allowed on the lake. For more information or to pre-register, contact the Lower Big Blue NRD at 228-3402 ext. 6 or email kimmerling@lbbnrd.net.
The Lower Big Blue Natural Resources District has considered and utilized various methods and products for combating the problems that often accompany aging dams over the years. Very often, the culprit is oxidation, particularly on structures which employ a corrugated metal pipe (CMP) for the principal spillway. Generally, over the life of a dam, a CMP will begin to develop rust on the bottom side of the tube. Given enough time, pin holes may develop which ultimately turn into larger holes, and invariably, voids can begin to form under the principal spillway causing undercutting and potentially failure of the dam to function properly.
The past couple years, the NRD has been in the process of installing Snap-TiteTM High-Density Polyethylene (HDPE) pipe in many of its structures. As the name implies, the pipe snap together around a gasket, and can be fused to a new riser once inserted into the existing tube. Ventilation and grout pipe are installed alongside the new tube for efficiently injecting grout into the annular space which remains. This creates a solid bond between old CMP and new HDPE, extending the life of the structure well into the future. The HDPE is able to be of smaller diameter due to the difference in hydrology between smooth-walled pipe (the HDPE) and the CMP, or existing pipe. The process usually takes about a week and saves quite a bit of time and money.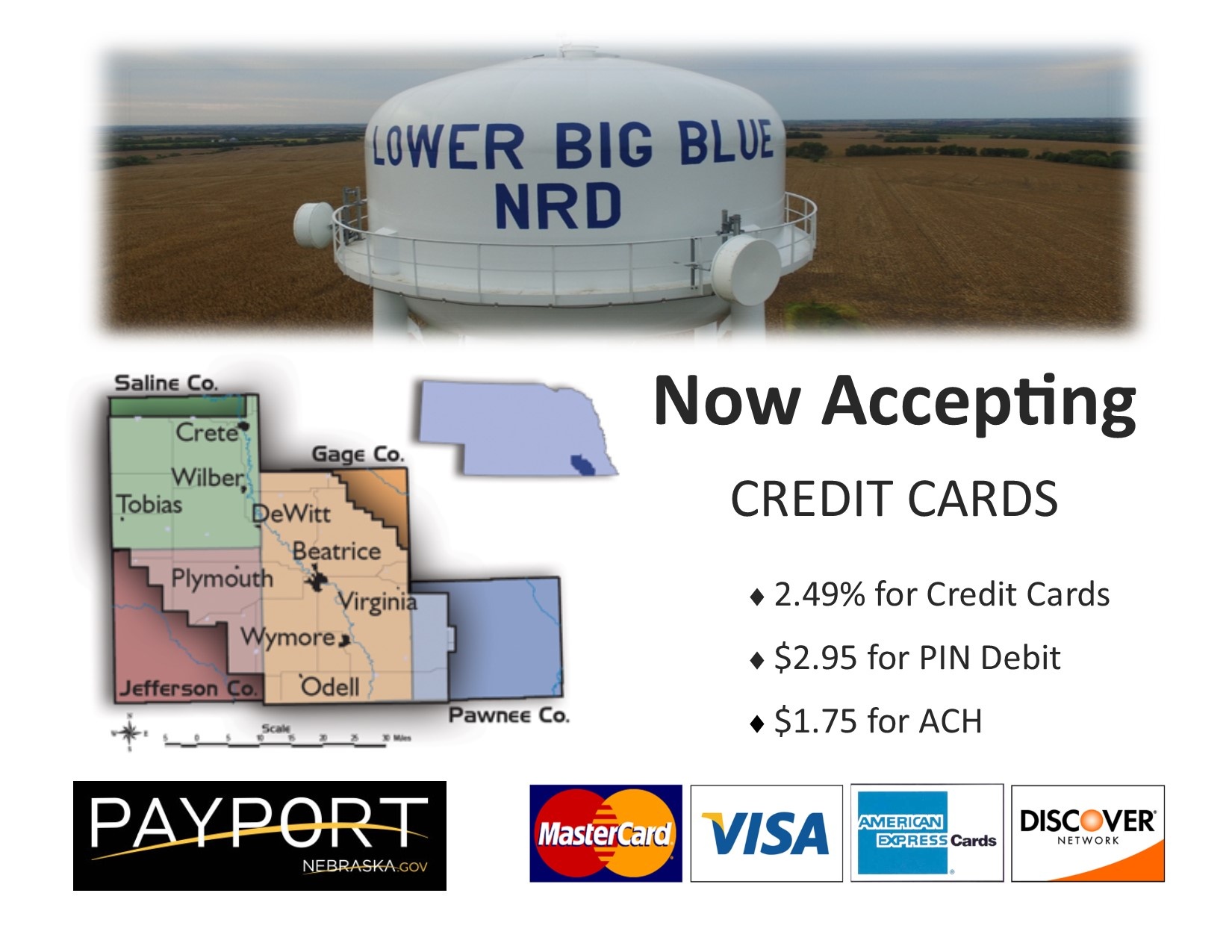 The NRD is now accepting credit cards in the office and online! Visit the "PAYMENTS" tab above to pay your bill.

Greetings from the Department of Agricultural Economics at the University of Nebraska-Lincoln (UNL). We are looking for producers to participate in a research study titled Nebraska Producers' Responses to Farm Bill Programs. If you are a crop producer 19 years of age or older, and interested in participating, please Register at the link below. The research will be conducted during Nebraska Extension sponsored Crop Production Clinics in January of 2019. If you have questions about the research project, please feel free to contact Simanti Banerjee, faculty at the Department of Agricultural Economics at any time via my email (simanti.banerjee@unl.edu). The study will not last more than two hours and you will be paid a compensation of up to $100 for your time. Participation in this study is voluntary and all information collected is confidential and anonymous. You can withdraw your registration at any time without harming your relationship with UNL or the organizers of the Crop Production Clinics.
Register: https://agronomy.unl.edu/crop-production-clinic-study-consent
-May 18
- NRD Family Fishing Day, Willard Meyer Rec Area
-May 30
- Monthly Board Meeting, 7:00PM
Subscribe to Our Newsletter!