Welcome to the "Watershed Capital of Nebraska"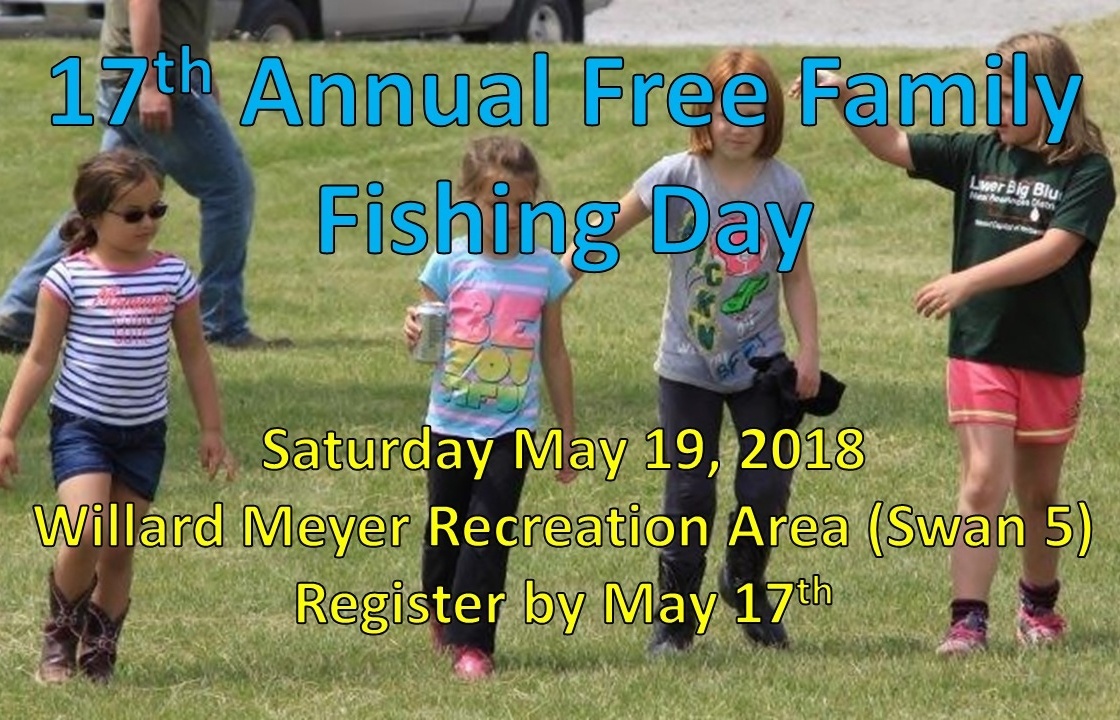 Free Family Fishing Day & Youth Fishing & Casting Derby
9:30 a.m. Saturday, May 19, 2018 at Willard Meyer Recreation Area (Swan Lake)
The Lower Big Blue Natural Resources District, Beatrice Optimist Club, the Swan 5 Advisory Council and Big Indian Archers are hosting the 17th Annual Free Family Fishing Day and Youth Fishing & Casting Derby on Saturday, May 20, 2017 at Willard L. Meyer Recreation Area near Tobias, Nebraska. Also referred to as Swan Lake, Willard L. Meyer Recreation Area is located three miles east and two miles north of Tobias. Or, from the Highway 74/Highway 15 intersection, the recreation area is five miles west and two miles north. The day also coincides with the Nebraska Game & Parks Commission's statewide free fishing day, so no state park entry permits or fishing permits are required.
The Fishing Derby will be held from 9:30 – 11:00 a.m. with check-in from 8:30 – 9:30 a.m. Limited bait, rods and reels are available by pre-registration only. Medals and prizes will be awarded in four age groups (5 and under, 6-9, 10-12, 13-18) for largest, smallest and most fish caught. Pre-registration is required and the deadline is Thursday, May 17, 2018. A free hot dog lunch will be provided to Fishing Derby participants and family.
Additionally, the Willard L. Meyer Recreation Area has a swimming beach, playground equipment and electrical and non-electrical camping areas. During the fishing derby and boat safety presentations boats will not be allowed on the lake. For more information or to pre-register, contact the Lower Big Blue NRD at 228-3402 ext. 6 or email kimmerling@lbbnrd.net.
Thank you to all who have cooperated with the NRD and FSA offices to certify your irrigated acres. If you have made any changes to your irrigated acres, these changes need to be reported to the NRD. If you have not yet certified your acres, the forms are located on the "Forms" page. Please contact the NRD with any questions.
Think about visiting the NRD's Recreation or Wildlife Management Areas this spring! Use the menu above to learn more about the different areas.

- May 19 - Free Family Fishing Day, Youth Fishing Derby @ Willard Meyer Rec. Area

-May 31 - Board Meeting, 7:00PM

-June 1 - Chemigation Permit Applications Due