Welcome to the "Watershed Capital of Nebraska"

** NRD OFFICE CLOSED TO PUBLIC **
IMMEDIATE NEWS RELEASE 3/17/2020

From: Dave Clabaugh, Manager
Lower Big Blue NRD

The Lower Big Blue Natural Resources District office (805 Dorsey St. Beatrice) will be closed to the public starting March 18. The office will tentatively reopen on May 1st.

These measures are being taken to prevent the spread of COVID-19. "Our top priority is to protect staff members and the public that we serve," said NRD General Manager Dave Clabaugh. "This may be inconvenient, but we believe that this temporary closure is necessary and is in keeping with the latest CDC guidelines." During this time, staff will be available by phone and email to serve the people of the district.

The board meeting that was scheduled to be held on March 26 has been cancelled. Regularly scheduled meetings are expected to resume in April. Announcements regarding dates and times for these meetings will be communicated via the NRD's website and social media channels.

The public can contact the NRD staff by phone and email, as well as via a contact form on the website. There is a drop box outside of the building where those who have water payments or forms to deliver may do so. Materials from the drop box will be collected regularly.

Lower Big Blue NRD Rec Areas Information
The ten recreation areas managed by the Lower Big Blue NRD currently remain open for day use, camping, fishing, and recreation.
The health and safety of our customers and employees is our top priority. Due to health concerns regarding COVID-19, we are working to lessen the spread of this virus to our guests, employees, and the community.
Please do not enter public buildings if you are sick, have a fever of 100.4 degrees or higher, or have been knowingly exposed to sick individuals.
LBBNRD is taking proactive measures to protect our customers and our employees. "We are disinfecting areas that are frequently visited by the public to protect our staff and visitors." Said Assistant Manager, Scott Sobotka.
Please Take precautions recommended by the CDC and exercise thoughtful consideration regarding public attendance and group interactions.
LBBNRD is monitoring the public health situation closely, as it changes daily.
Certify Irrigated Acres
Certification of irrigated acres changes or updates are required to be reported to the NRD by March 1st. Paperwork mailed to those who have certified their irrigated acres is also due back to the NRD by March 1st.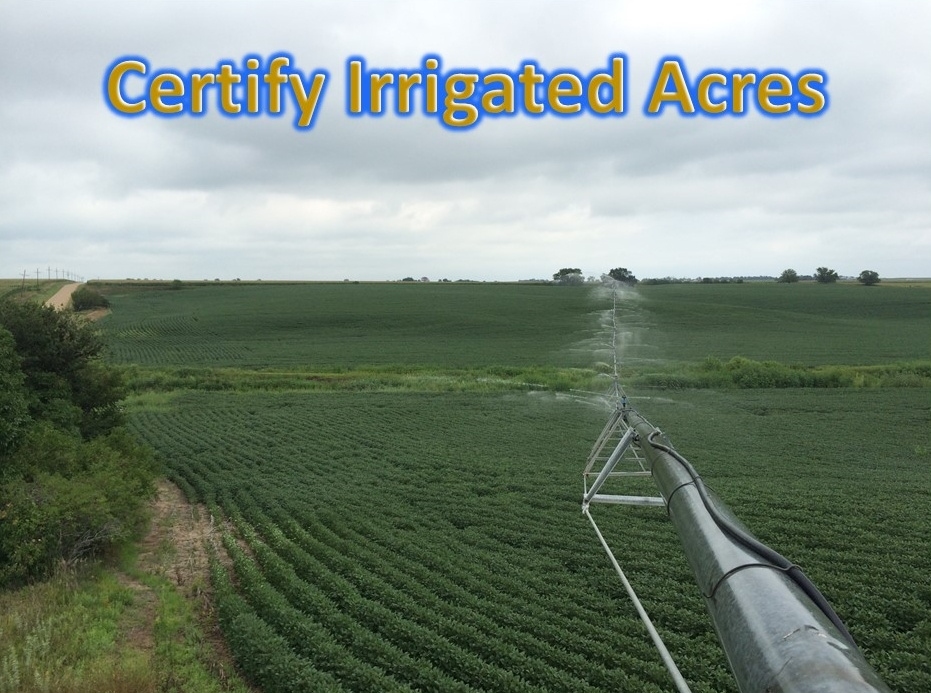 The Lower Big Blue NRD has opened the Willard L. Meyer Recreation Area, located east of Tobias, Big Indian Recreation Area, located southwest of Wymore, Swanton Wildlife Management Area, located north of Swanton and Walnut Creek Recreation Area, located north of Crete on October 28th, 2019. The north entrance at the Willard L. Meyer Recreation Area, east entrance at Swanton Wildlife Management Area, west archery range entrance and east entrance at Big Indian Recreation Area and the west entrance at Walnut Creek Recreation Area remain open to provide access for fishing and hunting.
Little Indian 15-A Renovation Project
This is the renovation project of a little indian flood control structure north of Beatrice.
Check out more of our videos on YouTube!
2019 NARD Annual Conference Awards
District Manager Dave Clabaugh and Assistant Manager Scott Sobotka were recognized for their years of service at the NARD Annual Conference. Dave Clabaugh was recognized for 40 years of service while Scott Sobotka was recognized for 20 years of service. Director Bob Lorenz was recognized for 25 years of service. Director Steve Kelley was recognized as the NRD Director of the Year. Tom Pesek was recognized for being a NRD Supporter.
New Picnic Shelters at Big Indian and Willard Meyer Rec. Areas
Two new picnic shelters have been completed at Big Indian and Willard L. Meyer Recreation Areas! These are great additions to our recreation areas for people to enjoy for years to come!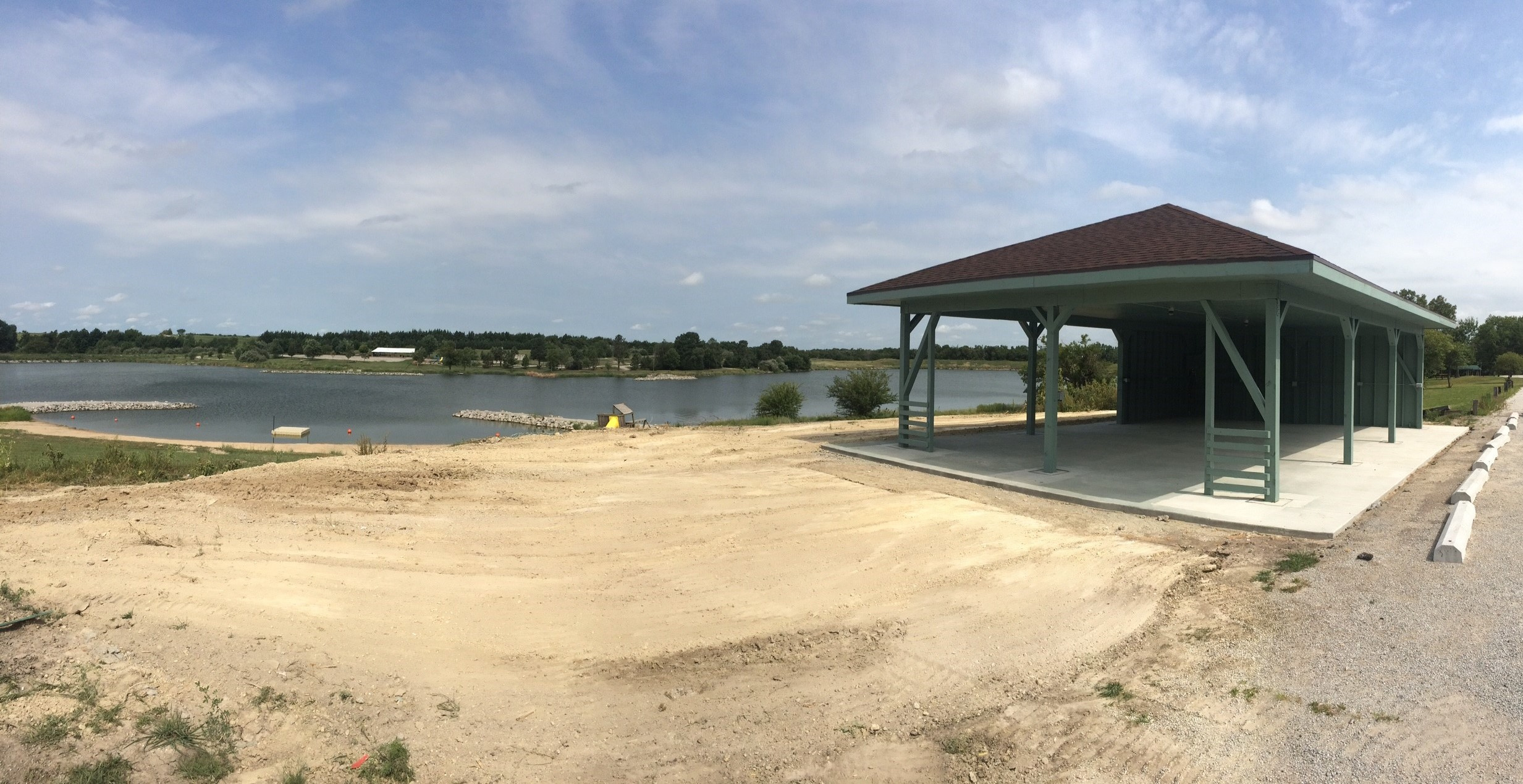 The Lower Big Blue Natural Resources District has considered and utilized various methods and products for combating the problems that often accompany aging dams over the years. Very often, the culprit is oxidation, particularly on structures which employ a corrugated metal pipe (CMP) for the principal spillway. Generally, over the life of a dam, a CMP will begin to develop rust on the bottom side of the tube. Given enough time, pin holes may develop which ultimately turn into larger holes, and invariably, voids can begin to form under the principal spillway causing undercutting and potentially failure of the dam to function properly.
The past couple years, the NRD has been in the process of installing Snap-TiteTM High-Density Polyethylene (HDPE) pipe in many of its structures. As the name implies, the pipe snap together around a gasket, and can be fused to a new riser once inserted into the existing tube. Ventilation and grout pipe are installed alongside the new tube for efficiently injecting grout into the annular space which remains. This creates a solid bond between old CMP and new HDPE, extending the life of the structure well into the future. The HDPE is able to be of smaller diameter due to the difference in hydrology between smooth-walled pipe (the HDPE) and the CMP, or existing pipe. The process usually takes about a week and saves quite a bit of time and money.
Subscribe to Our Newsletter!